The Chadian French speaking training participants listen and take notes during the workshop.
After the passage of the new Law on Combatting Trafficking in Persons, Warnath Group experts Peter Cronje and Gerry Hogan took two trips to N'Djamena, Chad in 2019, first to assess training needs and then to provide training to criminal justice actors on identifying and prosecuting trafficking in persons.  By providing training and resources, Warnath Group was able to assist in increasing the nation's capacity to combat and prosecute human trafficking.
In June 2019, Cronje and Hogan met with government officials, legal professionals, and members of domestic and international non-governmental organizations to determine what steps were most important in strengthening the enforcement of Chad's new Anti-Trafficking in Persons law, which was passed in June 2018. They found that many anti-TIP practitioners and law enforcement officials had limited  experience with the law and were often unable to access copies of the legislation, and that language barriers and the country's highly de-centralized legal system were current challenges to ensuring a strong response to human trafficking.
Throughout the assessment trip, many  government and civil society officials expressed a desire to better understand the needs of trafficking victims and related best practices. Warnath Group established that by sharing details of the new TIP legislation and fundamentals of TIP prevention, identification, and enforcement the country's ability to respond to instances of trafficking could be improved.
From November 11 through 14, Cronje and Hogan returned to N'Djamena for two two-day training sessions. All training participants received an official copy of Chad's anti-trafficking law in both French and Arabic.  
For the first session, conducted in Arabic, most attendees were staff members and judges from the Chadian Ministry of Justice. Because many of the attendees had limited contact with human trafficking victims, the emphasis of this session was on ensuring that participants had a strong understanding of the elements of human trafficking and the role that they as individuals played in providing care and support to these victims. Because several attendees are  associated with the Ministry of Justice's training center, there should be opportunities for these participants to play an instrumental role in sharing their knowledge of human trafficking with other officials in the future. 
The second session, conducted in French, included a mix of different professions including prosecutors, police, judges, and academics. Because more members of this group were involved in the day-to-day enforcement of anti-trafficking laws, the Warnath experts focused on interactive exercises and scenarios where attendees were able to demonstrate their understanding of anti-TIP strategies and the implementation of a victim-centered approach to combating TIP. The prosecutors and investigators were especially engaged and shared many of their own ideas about how to build connections with victims of trafficking. Mock interviews and spontaneous discussion were especially important in demonstrating attendees' understanding of anti-TIP practices and the importance of treating victims of trafficking with understanding, compassion, and sensitivity to the potential impact from trauma and fear. 
These trainings came at a critical time for Chad's implementation of its new anti-human trafficking legislation and were able to capitalize on increased political will for achieving improvements with the new tools that the legislation provides. The participants from both sessions were engaged and invested in learning about human trafficking and applying this knowledge and associated skills to their work. 
This workshop was made possible by the U.S. Department of State's Office to Monitor and Combat Trafficking in Persons (J/TIP) and with the assistance of the U.S. Embassy in N'Djamena.
The French speaking training group and Warnath Group's Gerard Hogan (center right) work through an interactive exercise.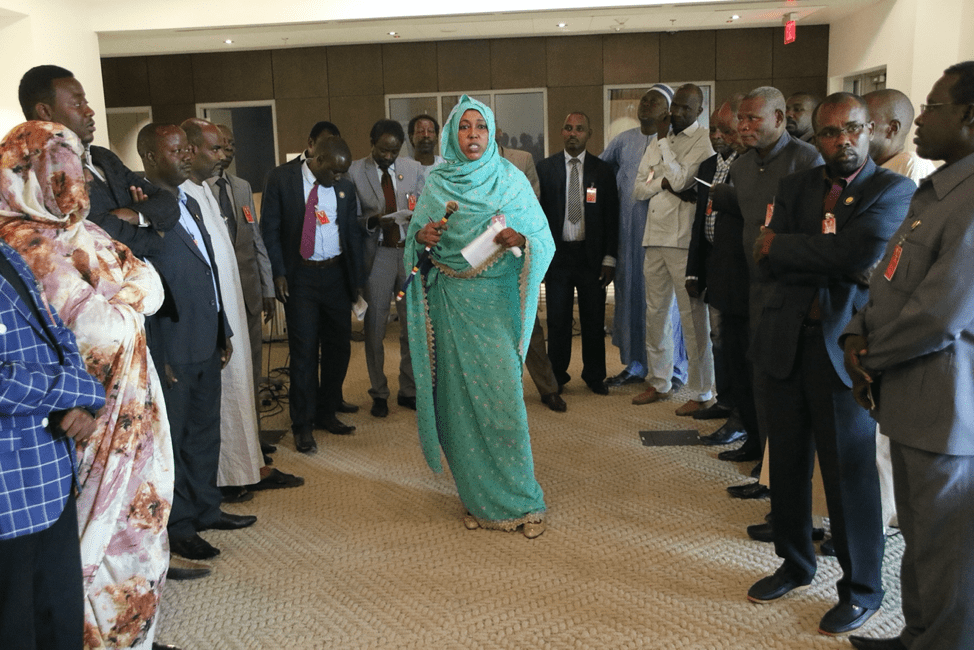 The Arabic speaking training group engage in an interactive exercise.